Thank you for your enquiry
I'm so glad that you have decided to book a videographer for your wedding day. There's really is no day quite like it and being able to watch it back and relive all the emotions time after time, is truly unique. My style of filming is very unobtrusive with my favourite parts of the film being those that are captured from afar, the uninterrupted moments of laughter, tears and joy. I always like to get to know you before the big day and answer any questions that you may have so that you can relax and feel comfortable with me there on the day, in fact, most couples say that they hardly noticed that I was there at all. 
I offer a full day package with filming from the bridal preparations until shortly after the first dance. In the following months I'll carefully edit a beautiful highlight film as well as delivering your ceremony and speeches in full.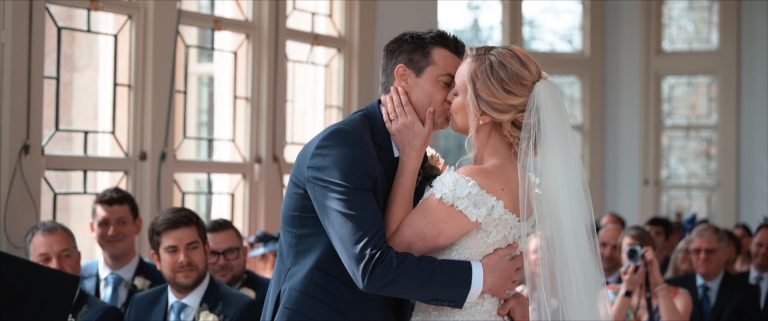 Your highlight video captures tells the story of you and your day from start to finish. I carefully select fully licensed music that suits the feel of your wedding, alongside audio from throughout the day such as those all important vows and the best moments from your speeches. It's a video that you'll watch over and over again and never tire of (approximately 7-10 minutes). 
The ceremony and speeches
I use two cameras to film your ceremony and speeches and a combination of high quality audio recording equipment so that you can listen back to every moment. If you'd like to see examples of these films please let me know. 
In the morning I will film the bride and her party getting ready, the pampering by hair and make-up, sipping a glass of bubbly, bouquets arriving, gifts being opened and the excitement building. If the location and timing is suitable I am also able to film the groom's party getting ready, shining shoes, practising speeches and putting on button holes.
For the ceremony and speeches I will set up a static camera recording throughout and then use a second camera to capture some different angles. I will use sound recorders that can be clipped onto clothing to capture high quality audio of your vows and speeches.
During the drinks reception I will film your guests congratulating you, your photos, drinks and any entertainment that you have arranged. I will also use this time to film some of the personal touches that you may have arranged such as your table plan and decorations.
In the evening I will stay about approximately half an hour after your first dance which will give me plenty of opportunity to capture your evening guests arriving, cutting the wedding cake and you and your family getting the party started. If you need me to stay later please let me know and I can incorporate this into your package.
Frequently asked questions
What equipment will you use? I film on Nikon cameras with a selection of lenses including a long range lens that allows me to stand back from the crowd and capture moments without being noticed.
What software do you use to edit the video? I use Final Cut Pro for Mac which is a fantastic program that allows me to balance colour and audio and carefully piece together the footage to craft an epic film.
How long will it take to deliver the film? My editing times vary depending on the time of year. I do my very best to get all videos done in less than 2 months. If you are getting married in the busy summer period it can sometimes take a little longer but it's well worth the wait!  
Do you work with specific photographers? I can give you a recommendation for some great photographers that I've worked with in the past but I will happily work with anyone.
Will we meet you before the wedding? If possible I like to meet all couples around 6 weeks before your wedding so that we're not strangers on the day and so you can talk me through all the details of your day. If you'd prefer to meet before making a booking that's also no problem. If you don't live locally we can arrange to speak over the phone instead.
Can we choose our own music? Unfortunately copyright laws mean that most popular music can't be used. I choose the music for your highlights film based on the feel of your day and suiting the type of music you choose to feature in your day. If you'd like to be involved in choosing the music from my selection this can easily be arranged. 
How do I make a booking?

If you'd like to go ahead please accept the quote that I have sent you and sign the contract and then I require a 30% booking fee to secure the date. The remaining fee is then due 14 days before the wedding day.